A-Z Support
Minimize your effort by handing over administrative, technical and logistical processes to us. We care for the return of your products from the point of use, professional refurbishment by our technicians, remarketing by our sales team and, if you wish, logistics to the point of use with our high-tech fleet. If required, we also take over the rollback and the certified and professional disposal of your products.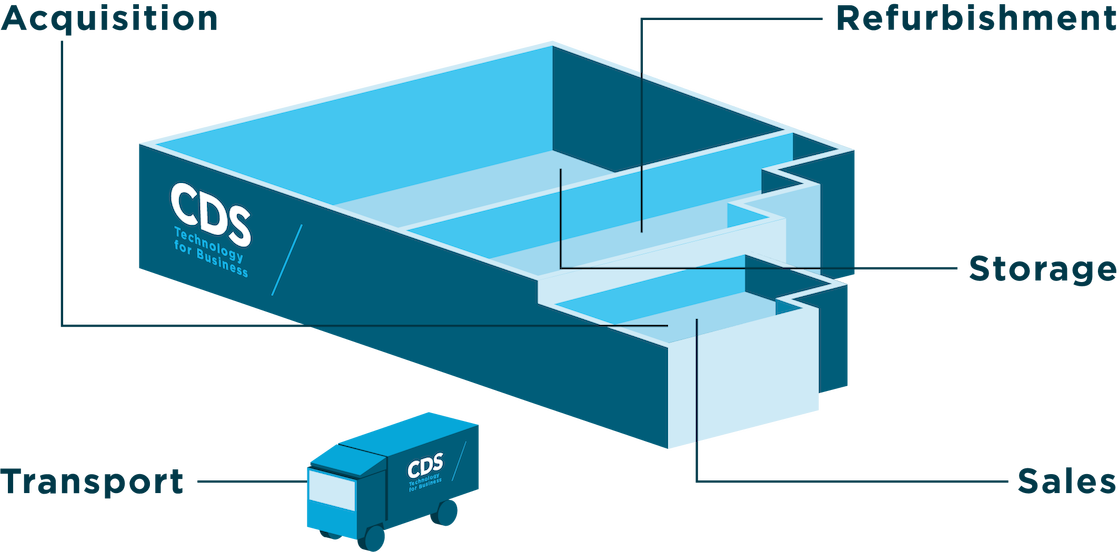 Why remarketing with CDS?
We ensure a smooth sale of your refurbished IT. We purchase your excess inventory, returns and service products, as well as end-of-life rental products. Alternatively, we offer the reconditioning and sale of the equipment as a service.
Your partner throughout all steps of the process
Our specialists accompany the professional refurbishment process according to manufacturer-specific requirements from start to finish. This way, we can guarantee our customers flawless equipment with tested quality at all times. We store your products professionally and securely in our air-conditioned and alarm-protected warehouses and offer you fast, straightforward options for remarketing via our own B2B platforms.
Comprehensive services from CDS
After sale, we take care of the safe transport of your equipment to the customer. Additional services, such as delivery to the place of use including installation and brief instruction, can also be booked if desired.
Attractive prices for your used IT
Through IT remarketing you can save resources and at the same time achieve attractive prices for your used IT. We market IT and accessories from the following product lines:
Laptops
Tablets
2 in 1 Convertibles
Desktops
Workstations
Thin Clients
Monitors
Large Format Displays (LFD) and interactive Displays
Virtual Reality Systems
Multifunction Printer (MFP)
Large Format Printer (LFP)
Point-of-Sale-Systems
Mobile phones / Smartphones
White & brown goods
and much more
You would like to market other products? Benefit from our individual solutions and platforms - tailored to your products and customers.
Fast & straightforward
We offer you support through our Sales as a Service (SaaS) and our Platform as a Service (PaaS). Focus on your core business - we take care of the entire order processing including customer management, invoicing and payment monitoring. We operate with our B2B e-commerce platforms, customised to remarketing your used IT and high tech. Whether webshop, auction platform or live shopping portal - together we will find the sales channel that suits you and your requirements. We compile the lots in such a way that optimal prices can be achieved.
More information:
Discover REMARKET NOW:
REMARKET NOW is a closed business auction platform for used IT and assets, surplus stock as well as EOL and B-goods. If required, we also offer the return of your equipment from the point of use.
Take a look at REMARKET NOW here
Get to know the exclusive advantages: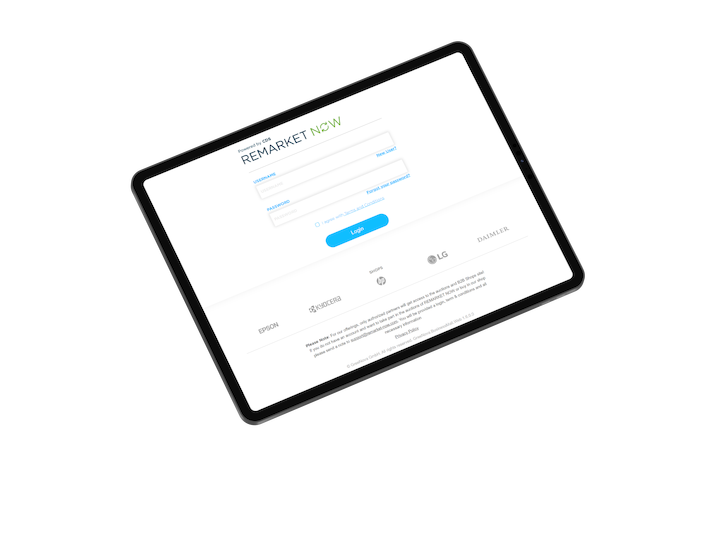 Simple processing
We handle the financial administration and organisation of the processes with the buyer.
Value Recovery
We care for the ideal composition of the lots. Furthermore, you have the option to set minimum bids for the auction.
Optimal price
By using our diverse processes for both customers and manufacturers, higher prices can be achieved.
Permanent contact persons
Your personal contact persons will be happy to answer any questions you may have.
More transparency and auditing acceptability
Our bundled sales platform with its overview of bids and bidders ensures transparent processes. All data is securely stored and archived.
Only one invoice to CDS
We manage the invoicing to the buyers - you only issue one invoice to CDS!
Discover our CDS Weblounge:
We ensure smooth selling of your young, refurbished IT in our CDS Weblounge. Each product is expertly tested, reconditioned and provided with additional guarantee.
Take a look at our Weblounge
Get to know our exclusive benefits: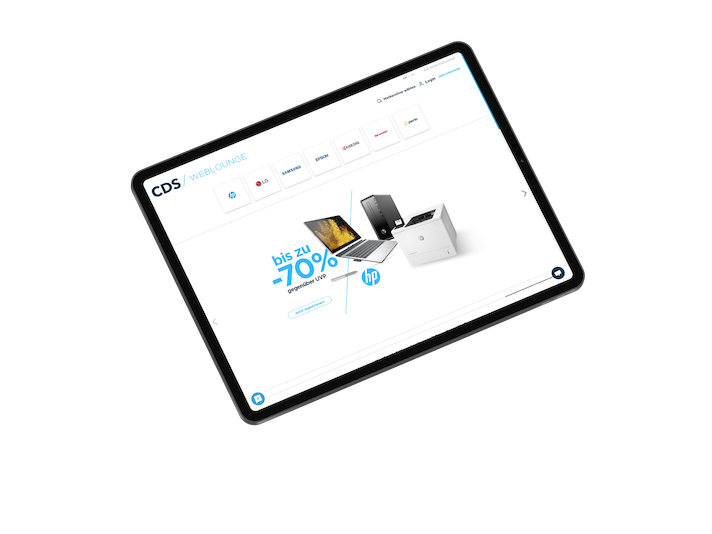 Manufacturer's own, branded Weblounge
There are exclusively manufacturer-specific shops in our Weblounge. When registering in our Weblounge, the customer chooses for himself in which manufacturer shops he would like to shop.
Make-an-Offer-Function
For selected products there is a possibility to give us a better offer.
Free delivery
All Weblounge orders are delivered free of charge in our in-house ultra-modern special logistics fleet. Alternatively, you may also pick up your goods directly at our warehouse.
Reservation function
Reserve interesting products for 48 hours without obligation.
Permanent contact persons
Your personal contact persons will be happy to answer any questions you may have.
Environmentally friendly
By selling your used IT, you are doing your part to conserve resources and receive attractive prices.
Serial number-based status description
We record all units in our Weblounge using the serial number and keep a log of meter readings, consumables, optical condition and other parameters. These can be viewed in the product description.
Closed employee sale
As a manufacturer, you have the opportunity to offer your employees exclusive access to your equipment via our platform - regardless whether it is new goods or used equipment from the demo programme. You write one invoice to CDS and we deal with the order processing and invoicing of your employees.