Selling made easy - CDS sales support
We offer our customers high technical and logistical quality, as well as personal contacts. In our back office, orders are processed on a project-based, calculable and transparent basis. We take care of the necessary approval procedures and create order-related invoices for you. The entire process is documented and checked by us - you can call up the device inventory online at any time. We work hand in hand to ensure a quick project start and a successful course.
Simplify your sales processes
CDS offers you the right services for every stage of your sales process. This is how we guarantee optimal support for your sales strategies.
Increase the awareness of your products at trade fairs and events and arouse the interest of potential customers with live demos. Let us support you with practical "try-before-you-buy" programs and use confidence-building campaigns such as bridging delivery times to strengthen the loyalty to your existing customers.
Every year we carry out more than 30,000 demo projects and enrich over 600 trade fairs and events with our possibilities.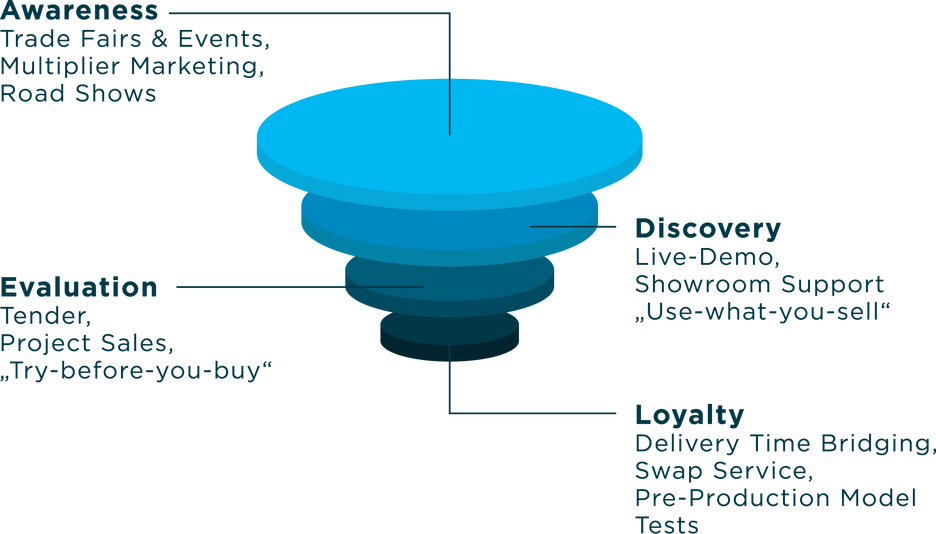 All of this is part of CDS Sales Support:
Successfull Partnerships:
























Further competences of CDS: